As Seen In Nicholas Sparks' The Choice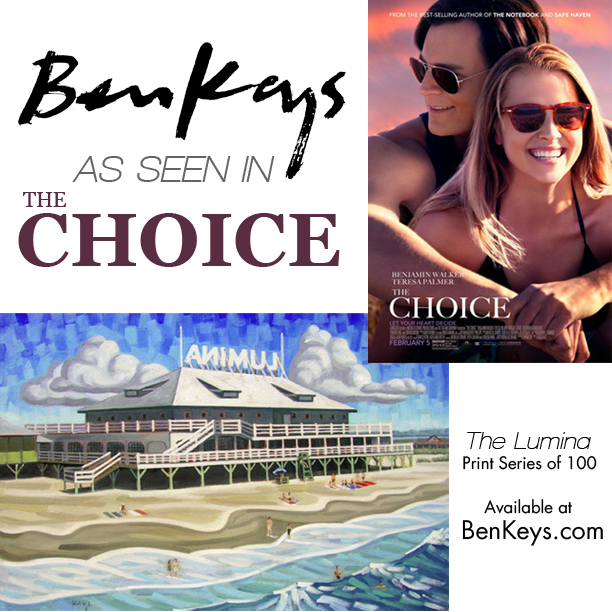 Last summer we were contacted by our Film/Entertainment Artist Representative that specializes in placing artwork on set for movies and tv shows. When you watch a movie, it's pretty wild to think that EVERY painting styled on set is licensed through the original artist! Needless to say, we were pretty excited to hear that The Choice was being filmed in Wrightsville Beach, and the set design team was seeking local Wrightsville Beach paintings for the movie. A good friend of ours happened to be on one of the production crews for The Choice and gave us the heads up that they were in fact using Ben Keys' The Lumina painting on set! We've had paintings used on set in previous movies, but it's sometimes very hard to spot the painting – let alone if it makes it into the final round of editing. Ben and I were excited to see the movie in hopes of spotting the painting. Much to our surprise, the painting was impossible to miss and used in several scenes taking place with the main character, Travis, in the veterinary clinic. It was pretty surreal experience to be watching a Nicholas Sparks movie and seeing one of Ben's paintings … there … on the HUGE screen!
Despite the movie being an obvious "chick flick," we really enjoyed seeing the gorgeous landscape of Wrightsville Beach in the movie. After studying painting in Chicago, Ben actually began his art career at Wrightsville Beach, painting the beaches and iconic landmarks like Dockside, Johnnie Mercer's Pier, Airlie Road, etc. Every day, Ben would set up his easel on the sidewalks and paint a new scene. It was pretty common for the paintings to sell before he even finished them that day! As Wrightsville Beach holds such a sweet place in our hearts, we considered it a true honor to see The Lumina featured in Nicholas Spark's movie, The Choice!
PS – If you're ever visiting Wrightsville Beach, head over to the Wrightsville Beach Museum to shop for Ben Keys' prints on canvas, including The Lumina!