Blake + Charles
The Gadsden House
Charleston, South Carolina
24 x 36 in. Canvas
It is with so much joy that we share Blake + Charles' finished live painting from their wedding that was held at Charleston's dreamy downtown venue called The Gadsden House. We've literally travelled around the world for weddings and events, but there's just something magical about a Charleston wedding. And ESPECIALLY when the bride is also one of our top Charleston Wedding Planners!
We've known Blake since she started with Francesca at Pure Luxe Bride and have enjoyed capturing so many of their weddings. When scrolling through Instagram, it's so easy to immediately spot a photo from one of their weddings. Known for layers of texture and pops of color, their events are rich in detail!
Needless to say, we were ecstatic when Francesca reached out and asked about the idea of giving Blake and Charles a live painting as a wedding gift. We completely agree: BEST WEDDING GIFT EVER! The anticipation leading up to Blake and Charles' wedding day was killer … but oh so worth the wait! It was actually very difficult to keep this secret while also working together on other weddings!
The Gadsden House is the Quintessential Charleston Wedding Venue
Their event design was a dream … dream ceremony, dream candlelit dinner, dream flowers, dream venue, and dream guests having the best time celebrating an incredible couple! Literally, dream everything! The truth is, their wedding day was a beautiful expression of their love … and Ben so enjoyed capturing all the joy!
Francesca chose to have Ben capture their first dance for their live wedding painting. With floral details surrounding them, and friends and family swooning. If you look just over Charles' shoulder, you see their wedding videographer and photographers painted into the scene! (Aaron & Jillian Photography are dear friends of ours!) Ben also included the lovely architecture of The Gadsden House porches with guests looking on. And of course, Francesca, painted over the brides' shoulder, had to be included in the painting, too!
In all of Ben's years as a live wedding painter, Blake and Charles' Gadsden House wedding painting is one of our forever favorites! We're thrilled to share their finished live painting!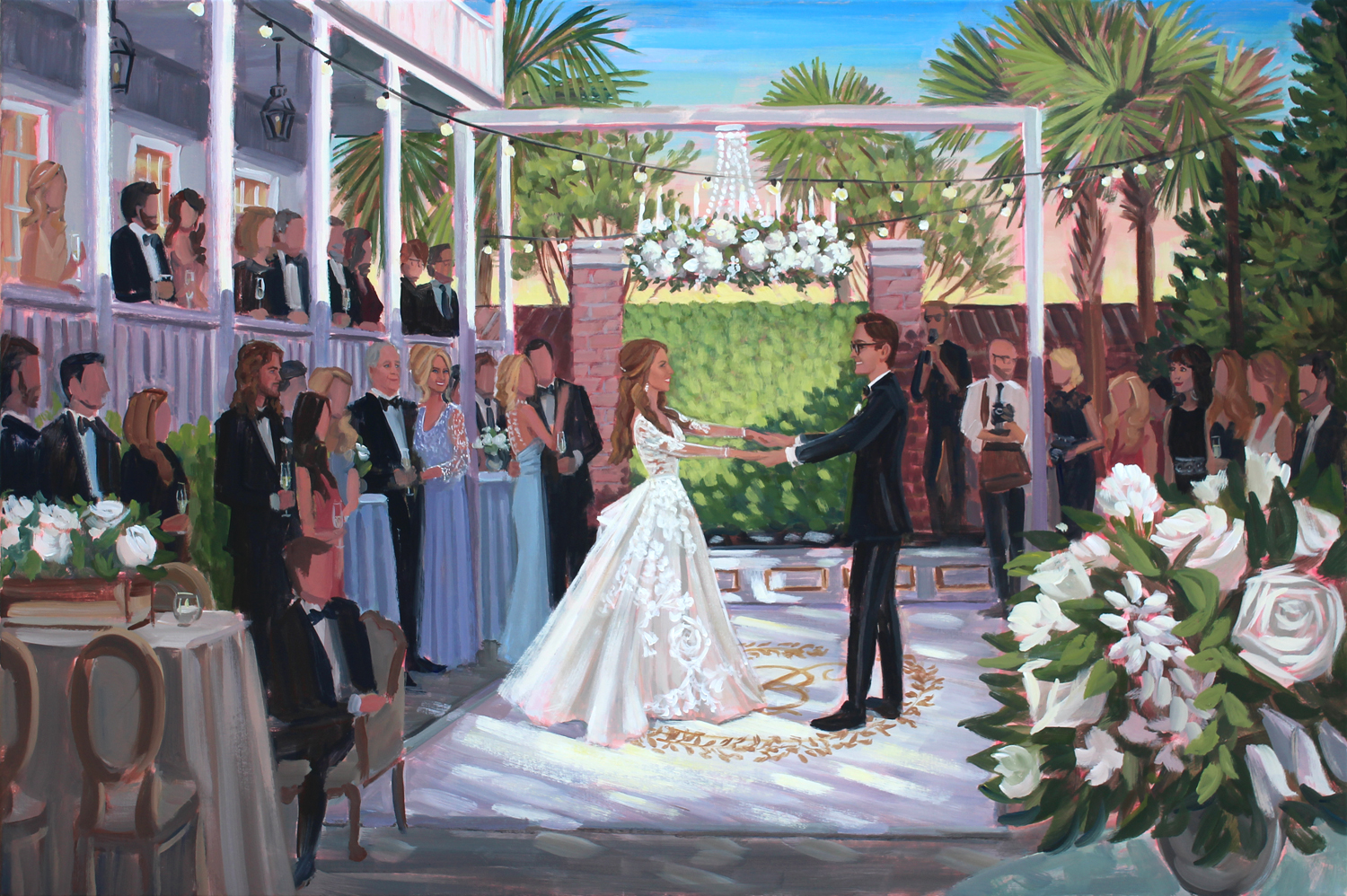 Ceremony + Reception Location: The Gadsden House || Wedding Planning & Design: Pure Luxe Bride || Day-of Production & Coordination: Sweetgrass Social || Catering: Mosaic || Bar: King Street Hospitality Group || Cake: Sablee || Florist: Petaloso || Rentals: Event Works || Lounge: 428 Main || Lighting/specialty rentals: Ooh! Events || Custom Linens: Nuage || Ceremony Music: Bob Williams Duo || Reception Music: Charleston Groove Factory || Photographer: Aaron and Jillian || Videographer: Film Anywhere Productions || Officiant: Len Ripley || Hair/Makeup: Ash & Co. || Getaway: Charleston Style Limo || Calligraphy: J.Lily Design || Live Painting: Wed on Canvas || Dancefloor Decal: Charleston Wraps || Baby Sitter: Simply Southern Sitters || Wedding Dress Designer: Calla Blanche via Verita || Hair Accessory: Emma Katzka Bridal || Invitations: Whimsy B. Paperie