Stehanie + Mark
The Greenbrier
White Sulphur Springs, WV
36 x 24 in.
I (Jen) will never forget the first time I arrived to The Greenbrier with my family. If you've vacationed here, you know the feeling when you turn the corner and make your way up the driveway. It takes your breath away. Today, as an adult, it still takes my breath away! Sometimes, it's the big floral bow drapes and others its that first sip of their famous Mint Julep. Minus the Mint Julep … the Greenbrier brings back such sweet childhood memories with my family. And every bride I talk with that has chosen The Greenbrier as their wedding venue … gets it … gets the wonder … and loves that they get to share that with their family and friends, too! When Stephanie took Mark to The Greenbrier to visit and consider as a venue location … he knew from the moment he arrived. This is it.
I (Jen) had so much fun getting to know Stephanie's sweet mom throughout the planning process. Ben, having graduated from Virginia Tech, felt right at home with their Hokie family. And of course, we were thrilled when they decided to commission Ben to capture their ceremony held in The Greenbrier's new Chapel. From the beautiful stained glass, to the most radiant chandeliers you've ever seen … it's overflowing with beauty! What's amazing is that though Ben has captured this Chapel many times before, it just ceases to inspire!
Stephanie + Mark opted to omit their officiant and bridal party as a way to really highlight how special their ceremony was to them. Needless to say, we're thrilled to unveil their finished live painting. We just love that they will have this painting of their ceremony for a lifetime to come!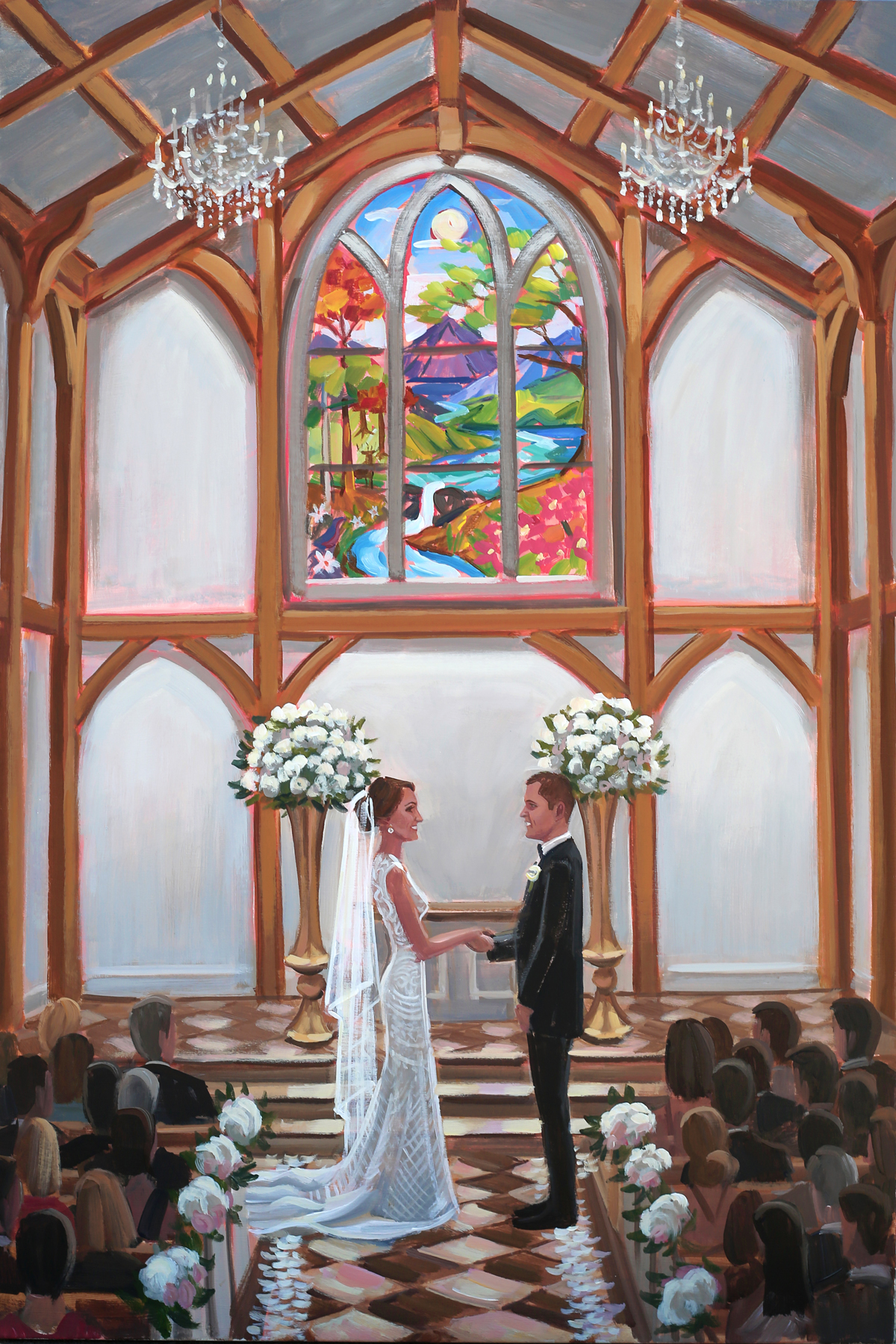 Ceremony + Reception Location: The Greenbrier, White Sulphur Springs, WV || Planning: The Greenbrier Wedding Team || Photography: Finn Lively Photography || Videography: DeVries Productions || Flowers; Gillespie's Flowers || Gown: Lazaro Bridal, via Nordstrom Aventura || Live Painter: Ben Keys of Wed on Canvas