Britt + Alex
The Dewberry
Charleston, South Carolina
24 x 30 in. | Oil on Canvas
T H I S. A candid bar scene moment was the subject Ben captured for Britt + Alex's live wedding painting. Britt fell in love with a few of Ben's older paintings that had a brushy, loose feel and requested Ben approach her painting similarly. She also was open to considering a more unique moment, instead of the traditional first dance. Don't get us wrong, we love traditional moments that are so classic and timeless, but it sure is fun and refreshing to receive total creative liberty to paint what comes. This painting wouldn't have been possible without Blythe of Yoj Events, who not only created a spectacular reception, but let Ben have so much freedom to just create. The result was so fresh and alive. Thank you so much to Britt + Alex, who trusted Ben to capture their story of their wedding day with brushstrokes. We hope this painting will bring a lifetime of joy as you remember your gorgeous reception at The Dewberry in downtown Charleston.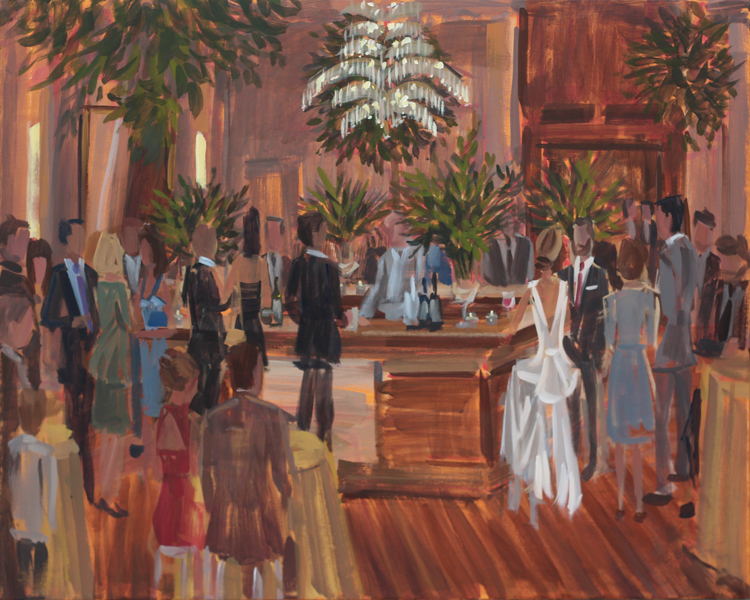 Reception Venue: The Dewberry, Charleston, SC || Planning: Blythe of Yoj Events || Florals: Stephanie Gibbs Events || Rentals: Snyder Event Rentals || Live Wedding Painter: Ben Keys of Wed on Canvas