Not So Hostel
Charleston, South Carolina
24 x 30 in. | Live Wedding Painting
Imagine a downtown Charleston backyard wedding with a cool September breeze, grooving to Garage Cuban Band, under twinkle lights. Tucked behind Not So Hostel, Vikki and Lee had the most organic and artistic wedding day. Lee is an accomplished musician (www.leebarbour.com) and Vikki is a rising singer and musician herself. It was their passion for music that brought these two together. (We think so highly of their talent, they actually performed at our own wedding!!) Needless to say, their wedding was full of character. Before sharing their first dance, the couple celebrated their first ping pong match as newlyweds. (For the record, Vikki did take the victory!) After a delicious dinner prepared by Chef Maya (100% vegan and LOCAL! ingredients), guests enjoyed a performance by a local stand up comedian! We have never seen this at a wedding, and the guests loved it. The guests were also gifted mason jars, that doubled in keeping this wedding a green event! And of course, the one thing we knew would be incredible would be the music. Garage Cuban band was so great, you will be able to find us at their next gig! (Even if it means crashing a wedding, JK.) Ben's live wedding painting perfectly fit the creative atmosphere and energy of the wedding. The magnificent oak tree dating back to when Columbus arrived, along with the old barn and pick-up truck made for a great painting backdrop. Lee's dad said, as he pointed to the huge oak tree in the painting, "Ben, you nailed it. This is what it's really all about." They were brought together and are part of a bigger picture, a bigger story. There was something so sacred about that oak tree, as Lee and Vikki stood beneath it's security and covered by it's strength. This is indeed, what it's all about.
We would love to invite you to be part of Lee and Vikki's wedding day and see this painting go from start to finish!
Vikki + Lee, Same Day Edit, courtesy of Film Anywhere Productions Song by Lee Barbour, Guinevere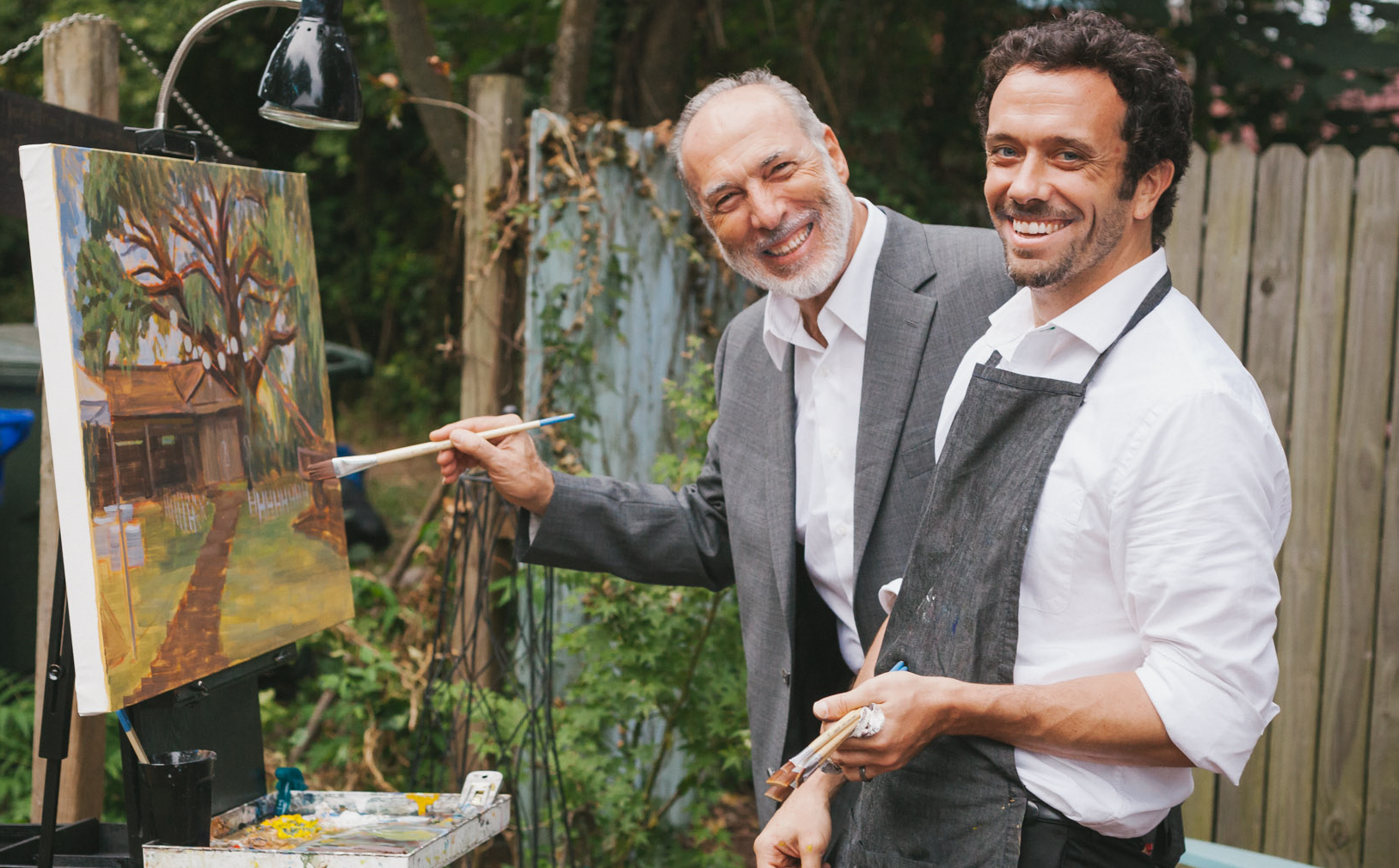 Venue // Not so Hostel, Charleston, SC
Catering // Chef Maya
Photography // Adam Chandler Photography
Videography // Film Anywhere Production
Band // Garage Cuban Band